Welcome....
There are no images in this gallery.
Football News
'Morgan Academy FC' - our former pupil Amy Gallacher this week signed for Hibernian FC. As the Hibs website tells us, "Amy is one of the best prospects in Scottish football and we are delighted to welcome her to the club". This is a massive move for Amy who was previously with Forfar Farmington.
Christmas News Letter: click to open/download newsletter.pdf
As we enter the Festive Season, a very warm welcome to our Christmas Newsletter, the first for me as Head teacher of Morgan Academy and it is an honour to celebrate with you the success of this year.
For me it has been an exciting and busy first term. I would like to thank everyone for such a warm and positive welcome. I would like to acknowledge the hard work and commitment of all staff at Morgan, I am exceptionally proud of their efforts and look forward to working with you in 2017.
We remain focussed on the pupils, their achievements and talents as we move into the challenges of the New Year.
I wish you all a magical Christmas.
H Gray
Head Teacher
Message from Headteacher Ms Helen Gray
It gives me great pleasure to invite you to step inside our website and find out for yourself what life is like for pupils, staff and parents at Morgan Academy. 
We are all very proud of our school and together we strive to deliver an inspiring and challenging education within a caring, supportive environment. We provide opportunities for all to achieve success and prepare our young people for an ever changing world.
No matter what your reason for visiting I hope you find the website informative and useful. Should you require further information do not hesitate to contact the school.
Enjoy your experience
Dundee Swimming Gala 2016
Congratulations to all participants in this year's swimming gala. A fantastic event, with some very competitive races. Well done to all pupils!
This year's Morgan Academy overall swimming champions –
S1 – Ava Glennie 1C1 and Aaron Airlie 1A1
S2 – Nikole O'Reilly 2CC and Lewis Dewar 2M1
Senior – Seonaid Grant 4M2 and Rohan Koli 6C2
Relay – Mains
Christmas Debating Final
 The Motion will be;
This House believes that commercialisation is the true meaning of Christmas.
Airlie will propose the motion, Mains will oppose.Judges Mrs Gray and Mrs Quin
Winners of the Christmas debate Mains
 Interact Christmas Jumper Day & Coffee morning.
The above took place on Friday 16th December and was a huge success, well organised by the Interact group and with staff and pupils proudly wearing their Christmas jumpers. The event was well supported by many visitors from the local community, our minister, some representatives from the FP's and our local Councillor Lynn Short. The sum of money raised was £150.00, thank you to all who contributed and took part.
Higher Modern Studies Christmas debate at Abertay University
On Tuesday 13th December Higher Modern Studies pupils from all over Dundee attended the above debate. The theme this year was Brexit. The debate had over 2500 viewers live online and that has been the University's biggest audience so far on their Facebook Live Stream. The Sociology Division are delighted with this. Pupils from Morgan Academy Modern Studies department attended, contributed to and enjoyed a very lively debate. Feedback has been very positive and the plans are underway for next year's event already. Well done to all those who attended in both Mr Thomson's and Mr Davidson's Higher classes and thanks to Mr Davidson for supervising the trip.
 Morgan Academy Football
As we end 2016 and the first half of the school year it is yet again our privilege to say that Morgan Academy once again has football teams across every single age group in Schools Football. All year groups are represented and this, as always, includes our U15s and U18s girl's teams.
Starting with the girls, Mrs Haddow writes – "This year we have two girls football teams entered in Dundee competitions. The U15 team, overseen by Miss Thomson, were very successful in their first round of games in November and will be taking part in the next stage of the tournament in March. Mrs Haddow's U18s (previous Plate winners) also took part in their first games in November, in minus temperatures, with slightly less success but a great team spirit and are hoping to turn it around in the next round in March. Thanks to all of the girls who have taken part in Girls Football this year."
With the boy's football it has been a case of a successful year so far games wise but not quite yet with our results on the pitch. Each side has played at least once and all still stand a chance of qualifying for the end of year "Champions League" as well as the individual cups. 
We are once again being assisted by Senior pupils and we have a returning former pupil in the shape of Andrew Creegan who is continuing in his role as coach of the U15s side. The current managerial positions in the school are – 
* U13s – Miss Welsh, Josh Harper, Luke Carroll and Mark Osborn
* U14s – Mr Findlay
* U15s – Mr Griffin and Andrew Creegan
* U16s – Mr Haddow
* Seniors – Mr Kiddie 
* Girls U15s – Miss Thomson
* Girls U18s – Mrs Haddow
Mr Haddow continues to be the school's football representative with the Dundee Schools Football Association (DSFA) and Scottish Schools FA, and at the end of last season he was elected as President of the DSFA (although this hasn't helped us win any trophies yet!)
With many more games scheduled for the next few weeks and in to next term we are hopeful of a successful 2016/17 and some silverware come the end of the season!
Finally, we must end this update with a massive thank you to Mr Ogilvie (or 'Greig from the Print Room' to our players!). Over the last few seasons Greig has put in a huge amount of work for the school football at Morgan. The list includes...…minibus driving, kit washing, printing, food buying, coaching, managing, and as he puts it himself "chief encouraging" of our players. We are sorry to see you go Greig!
Dundee Final - Rotary Young Musician
Instrumental Final of RotaryInDundee's Young Musician of the Year
On Friday night the Dundee Instrumental Final of the Rotary Young Musician of the Year took place in the University Chaplaincy.
Two of our pupils (Rachael Adam, Vice Captain and Rachel Millar, School Captain) competed in the Rotary Vocalist of the Year competition. 
The semi-final was held on Wednesday evening when both pupils progressed to the final. The final was held on Friday evening and Rachel Millar came second - securing a place in the District competition (Tayside) in February. Rachel was the only pupil from a DCC school to progress to the next stage.
Eight talented young players had won through to the final after the semi-final on Wednesday. Adjudicator Jerry Randalls and a large audience were treated to an eclectic mixture of music from piano and violin to drum kit, clarinet and flute. Composers from Bach and Beethoven to Rush's Neil Peart and Miles Davis featured in a superb display of Dundee's instrument talent. Supported by their music teachers and accompanists they again demonstrated why Dundee youngsters have won the District round of the Rotary Young Musician of the Year for the last three years. Playing a Back Prelude and Fugue in C minor and movements from Grieg's only Piano sonata, Robert Zhan won the handsome cup and will lead the team of five to Perth on the 25th February. Joining him will be drummer Kailas Narayanan, vilonists Tabitha Kobine and Rachael Lindsay and fellow pianist Abhisri Chaudhuri. They will join the five vocalists from last week's final led by winner Lynden Nicely.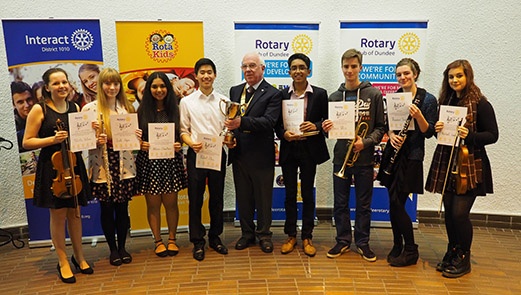 The cup was awarded to Robert by President of Dundee Rotary Club's Peter Leyland. Agreeing with Jerry Randalls he said we had listened to an outstanding evening of music by very gifted young performers and he thanked the music staff and parents for all the support they give our fine young musicians.
 Scottish Book Week
Last week was our annual Scottish Book Week which involved all S1/S2 and some S3 visiting the Library to take part in workshops by Dundee Comic Space, retired illustrator from DCThompson, Jim Glen and Craig Graham managing editor of the Beano. Joe Lamb. Local author and Alistair Wilson, Dundee City Libraries also made a welcome return.
Mr Gillespie our newly published author took part in a question and answer session for the Higher English class chaired by Mrs Anderson. Mr Gillespie's book "Photographing God" is now avaialble on Amazon.
Pupils also took part in the Library Book Buffet "sampling" various book related activities –matching book characters to books , favourite foods of book characters and lots more. Our Literacy across the Curriculum board game QUEST once again proved popular with some very competitive teams playing!
Pupils were also given the opportunity to take part in our Scottish Images Bingo and Murder in the Library which this year was "committed" by Ms McDonough with cyanide and the victim Mrs Valentine.
Drop Everything and Read gave staff and pupils an opportunity to have a read for 20mins each day.
To celebrate Book Week Miss Adam and Mr Gillespie performed a version of It's a Book by Lane Smith promoting the "joy" of reading.A highlight of this year's events.  
​MORGAN ACADEMY DEBATING TEAM
The Debating team of Yumn Jassim and Andrew Brough was successful in progressing to the next round of the Donald Dewar Memorial Debating Competition on Thursday night. The first round debate was held at Morrison's Academy in Crieff. Morgan saw off experienced and accomplished opposition from both Morrison's and Strathallen private schools.
The staff from these schools were amazed to hear that this was our first debating competition – their pupils train and practice from P7 and enter numerous competitions throughout the year.
The judges commended Yumn as the best speaker overall on the night. Andrew's three-minute summation was also said to be instrumental in the team's success.
The wider Society was represented by Nathan Inatimi and Lauryn and Rachel Baldie, who both gave impressive speeches as part of the floor debate. Indeed, Nathan won a £10 book token as the best contributor at this stage.
Look out for further notices – the Society plans to go from strength to strength on the basis of this very encouraging first foray into public competition. Thanks also to Diane Anderson for her coaching, advice and support of the young people involved.
Netball
The S3-S4 Netball team played their 1st league game of the year against Craigie High School last week at DISC. They played 4, 11 minute quarters, which was the longest game the girls have played together since many of them started playing for Morgan in S1.
The game was very close the whole way through, ending the first three quarters in an equal score.  It all came down to the final quarter and we went down by a few goals.  The girls rallied and eventually came out top on 16 -15!
The girls were delighted with the result and have really progressed as a team with coaching from Rhian, a student from Dundee and Angus College. The girls put a lot of effort in and played so well as a team.  There were some wonder goals from Taylor Fleming, including one from the edge of the D that no one could believe went in! The girls are a credit to the School!
The squad were as follows: Seonaid Grant, Rebecca Dewar,Taylor Fleming,Taylor Forbes, Kirsten McDougall, Abbi Crighton, Megan Reilly, Erin McDonald, Robyn White, Aishwary Costa, Faith Mitchell and Sophie Downes. Thanks also to Atiya, who helped out as an umpire for the game.
P.E Uniform update
Well done to the P.E department and in particular to Kim Thomson who has taken the lead in developing a P.E uniform and organising the ordering of "t"shirts. As of the last day of term about 800 had been ordered and many delivered with pupils already wearing them. I am great believer that this develops identity and contributes to pupils taking pride in their school and taking P.E seriously. The picture illustrates how smart classes look. 
Morgan Academy USA Trip 2016
Congratulation to Matthew Pratt 1A2 British Champion in Karate has been selected to participate in Olympic Phase1 [ATIP] Trial on Sat 15th November in Renfrew. 
Senior Halloween Party
Show My Homework
 Show My Homework – launched to pupils this week and a parents evening for information scheduled for Tuesday 20th at 6pm. Already many departments are using this and pupils have demonstrated for me the use of the App on their phones. Our aim is threefold; 
1. increase in homework completion and quality through use of technology with pupils
2. parental support, engagement and communication
3. and ease of use and long term efficiency of work for teachers
An article was featured in the Evening telegraph on Friday highlighting the system to all and was very positive for Morgan Academy.
A new way to record, track and monitor homework at Morgan Academy.
We are excited to be launching Show My Homework, an online tool to help you keep track of your child's homework. Show My Homework will allow you to see the details of the tasks your child has been set, as well as their submission status and grades.
You will be provided with login details to your personal account, ready-linked to your child's homework calendar. These logins will be sent out 3 weeks after launching but don't worry you will still be able to view all homework.
You will also be able to login by following this link and clicking the top right 'Login' button.
24/7 access

View quality and quantity of homework

Translation into over 50 languages

Free apps available for iPhone, iPad, iPod Touch and Android devices

Receive automated notifications before homework is due
​Parent Council Meetings
Dates for this year's Parent Council meetings are as follows
Wednesday 23rd November       6.30pm
Wednesday 18th January 2017  6.30pm
Wednesday 8th March 2017       6.30pm
Wednesday 26th April 2017        6.30pm
Wednesday 14th June 2017       6.30pm
What is on at Morgan
Monday
Netball S1 – S6 – ½ Games Hall 4pm – 5pm Shannon
Basketball S1 – S4 - Disc – 5pm – 6pm – Games Hall
Tuesday
S1-S2 Futsal Games Hall Lunchtime
Ultimate Frisbee S1 – S6 Water Pitch 4pm – 5.30pm Mr Thomson
Basketball S1-S6 Games Hall 4pm – 5pm – Miss Thomson
Fitness Morgan Fitness Suite 4pm – 5pm – Miss Cameron
Dance S1 – S2 4pm – 5pm Dance Studio
Wednesday
S1 – S4 Girls Football 3G Pitch 4pm-5pm Miss Thomson
S1-S6 Hockey Water Pitch – 4pm – 5pm
Thursday
Badminton S1 – S6 Games Hall 3pm – 4.15pm Dr Rosenzweig
Cricket 3pm – 4pm Outdoors
Athletics 3pm-4pm Gymnasium / outdoors Mrs Cooper
Rugby 3pm – 4pm Disc 3G S1 – S4
Friday
Table Tennis Dance Studio Lunchtime
Parkour Gymnasium 3pm – 4.15pm
Staff and senior Pupil Football Games Hall
FOOTBALL TEAMS – VARIOUS DAYS
Bienvenu Jérôme
We are delighted to introduce our new Modern Languages Assistant.  Jérôme is from the north west of France and will be living and working in Dundee until June.  His job is to encourage as many Morgan Academy pupils to speak as much French as possible.  Speaking another language can help you to find jobs in Scotland and around the world and can help you to get on to lots of different university courses.  This term he will be working with S1, S3, S4 and S5 and in the New Year he will begin working with S2.  There are lots of classes so you will only see him only once a month in class with your teacher.  He is also going to Glebelands, Clepington, Dens Road and Rosebank Primary Schools so he may see some of your younger brothers and sisters there too.  He enjoys films and martial arts and is studying English and Chinese at University.  We hope he has a fantastic year and we all learn lots of extra French.
---
School Day
Period Time
Monday
Tuesday
Wednesday
Period Time
Thursday
Friday
 
 
8:45 - 9:35
Tutor/1
Tutor/1
Tutor/1
8:45 - 9:35
Tutor/1
Tutor/1
 
9:35 - 10:25
2
2
2
9:35 - 10:25
2
2
 
10:25 - 11:15
3
3
3
10:25 - 10:40
Interval
Interval
 
11:15 - 11:30
Interval
Interval
Interval
10:40 - 11:30
3
3
 
11:30 - 12:20
4
4
4
11:30 - 12:20
4
4
 
12:20 - 13:10
5
5
5
12:20 - 13:10
Lunch
Lunch
 
13:10 - 14:00
Lunch
Lunch
Lunch
13:10 - 14:00
5
5
 
14:00 - 14:50
6
6
6
14:00 - 14:50
6
6
 
14:50 - 15:40
7
7
7
 
 
 
 
---
Important Dates This Term 
Friday 23 December 2016: End of term
Christmas Start Monday 26 December 2016
Holiday End Friday 6 January  2017
---
School Calendar 2016-17
School Calender now available to view School Calendar 2016-17
---
School Brochure 2016
A copy of the school brochure 2016 is available. >> brochure.pdf
---
  
School Crossing Patrol
Dundee City Council is looking for adults to act as school crossing patrol  officers.  Contact 01382834067 for further details.
---
Standards and Quality Report
 Session 2013-2014
To obtain a copy of the standards and quality report for the session 2013/2014 (updated March 2015) click the link -
Standards and Qualities Report 2015
---
School Handbook
The school handbook 2015 is available for viewing.  Click the link School Handbook.